The Ministry of Transport's latest regulation has just been adjusted immediately deployed to airlines and airports on air travel conditions.
Deputy Minister of Transport Le Anh Tuan has just signed Official Letter No. 682 to the Civil Aviation Administration of Vietnam, airlines, and airports to adjust the standards and conditions of passengers and crew on passenger flights.
Notably, from January 21, when adjusting conditions for passengers traveling by air, the Ministry of Transport will not require a certificate of COVID-19 fully vaccinated, or a certificate of quarantine completion, COVID- 19 recovered, and test papers.
If the guest resides, stays before the flight in an epidemic area at level 4, or is under medical isolation (blockade), a negative test result by PCR or a rapid test is required 72 hours before flight time.
For flight crews who are pilots, flight attendants will remove the regulations on testing before making domestic flights.
Thus, with the above regulation, passengers' travel procedures have been relaxed, especially children under 12 years old will no longer have to have a negative test certificate as before.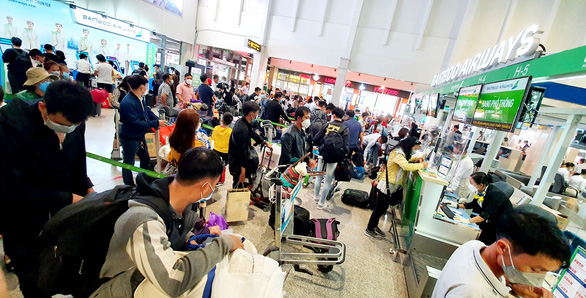 Currently, the situation of the COVID-19 epidemic in Vietnam is basically under control nationwide, and the vaccination rate is high, said the Ministry of Transport.
This agency has directed the Civil Aviation Administration of Vietnam to monitor the situation of domestic air transport operations closely proactively decide to increase the domestic frequency to ensure the principles of safe adaptation, flexibility, and effective control. COVID-19 pandemic and meet the travel needs of the people.
(Retrieved from: https://tuoitre.vn/nong-tu-sang-22-1-bo-kiem-tra-giay- xet-nghiem-va-tiem-du-vac-xin-khach-di-may-bay-20220122065820003.htm)
*Translated by GK Wintron.